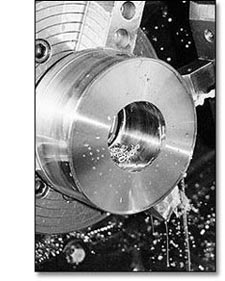 CNC Turning
Sobot Tool and Manufacturing Company employs state-of-the-art technology to ensure that all of your CNC Turning and CNC Lathe needs will be met. Manufacturing parts up to 144" in length with outside diameters of 1/16" to 13", Sobot Tool utilizes the most modern Grooving and Threading techniques to produce exceptional single parts and assemblies. Whether it is O.D. or I.D. grooving Sobot Tool can maintain tolerances up to +.0001/-.0001 and can turn out finishes up to 8 R.M.S.
With 100 plus in-house gages , which are calibrated on a set schedule, we specialize but are not limited to manufacturing the following threads:
Stub Acme
Acme
API Threads
Buttress
Pipe Threads
Metric Threads
Standard 60 degree Threads
Threads with a special profile or pitch can be designed at Sobot Tool, or we can import your solid model into our CAD/CAM programming software to guarantee a finished turn-key product.
CNC Milling
Sobot Tool utilizes a vast array of 3 axis, 4 axis and 5 axis milling machinery to make certain your simple or complex milling requirements are met. We are capable of milling parts with outside diameters of 1/16" to 13" and in lengths of up to 144". Our experienced staff manufactures many of our Milling tools in-house with our sophisticated grinding machines so jobs are never held up in production. Whether it is drilling, pocketing, thread milling, contouring or surfacing, Sobot Tool will establish a solution to all your complex CNC milling needs.